For several decades now, this time of year has been characterized by excessive shopping and record spending on commercial goods – thanks largely to Black Friday and Cyber Monday.
In 2012, the team at the Belfer Center for Innovation & Social Impact (part of the 92nd Street Y) saw this superfluous spending that followed US Thanksgiving and decided to start a movement based on a simple premise: add a day to the calendar that focused on giving, not getting. They called it #GivingTuesday.
#GivingTuesday is a unique philanthropic movement that seeks to level the playing field for organizations of all shapes and sizes. Its grassroots approach leverages the power of social media (the hashtag has been a critical part of its success) to connect diverse groups of individuals, communities and organizations around the world for one common purpose: to celebrate and encourage giving.
So, has #GivingTuesday been a success? Well, the proof is in the numbers. In its inaugural year (2012), the movement prompted over $13.5 million in donations. It has since grown well over eleven hundred percent, reaching $168 million this past #GivingTuesday (2016).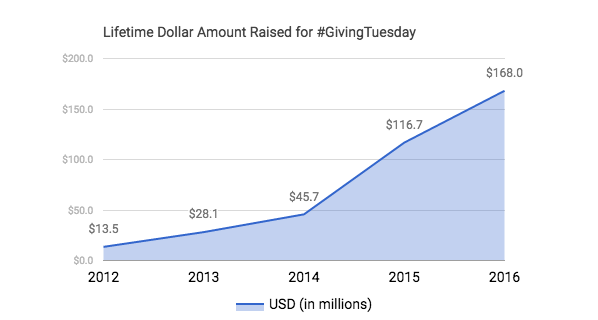 In addition to this incredible growth in dollar amount, the movement (that started out just in the United States) has now reached 98 countries around the world.
Giving is, of course, encouraged year-round. And, while the amount of money raised on #GivingTuesday may represent only a fraction of the total amount of annual charitable giving, this movement brings awareness to all the great causes that need support and is an important catalyst to help shift the mindset from excessive buying to thoughtful giving.
Congratulations to all of the organizations that took part – and kudos to all those who gave!