Generating sustainable value from social media takes more than posting ad hoc photos and sporadic updates. As one of the most cost-efficient and effective marketing tools of this century, social media requires more attention, time and resources than many organizations care to lend. With the right strategy, your nonprofit's social media accounts can turn heads, generate donations and recruit volunteers all from behind a screen. But don't be fooled, it's not as easy as pressing a few buttons and liking a few posts. The key to social media success is to approach it the same way you would with any other marketing tactic. There needs to be a plan.
A brief history of social media
When social media first emerged over 20 years ago, it was largely used as the name implied—for social purposes. MySpace appeared and grew exponentially in the early 2000s as a way to virtually connect with friends while LinkedIn grew alongside as the 'business' version of social media. In the mid-2000s, the big players we know today such as Twitter and Facebook joined the scene, forever changing the way we communicate with friends, share our thoughts, and stay in touch. The benefits these sites had for communication were undeniable, but these channels were still primarily used for personal communications. Corporations and organizations were just starting to create shared patterns and best practices for how to successfully navigate social media as a brand.
Today, millions of businesses, organizations, and foundations use social media as their number one marketing tool. Facebook, Instagram, LinkedIn, and Youtube have sophisticated built-in marketing tools to help advertise products, expand your reach, and aggregate data to better understand your audience. So, while social media might have at one point been merely a tool for teens to post dog pics and selfies, years of innovation have opened up new possibilities for even the earliest days of an emerging social impact brand.
Still not convinced? Here are five reasons your social impact organization should be using a social media strategy:
Keeping donors, volunteers, and supporters in the know
In today's multimedia powered mobile-first world, it's not enough to live on just one platform.
Don't get us wrong,  a great website is critical for engaging and informing the public, but you need other channels to guide individual users to the information they need or want the most.
Think about it this way: how will people know when you share a new blog post, launch a new fundraising campaign, or reach a new goal? Through Twitter, Instagram, Facebook, LinkedIn, and Youtube. With a consistent, engaging social media strategy, your organization can spread news much farther and faster than ever before.
When we teamed up with Charity Navigator earlier this year, they were looking for a way to effectively promote their newest feature—the Encompass Rating System. After cementing itself as the largest and most-utilized evaluator of charities in the United States, the organization was introducing its newest product: a system that would rank an additional 150,000 nonprofits based on four key categories to give donors as much information as possible when choosing a charity.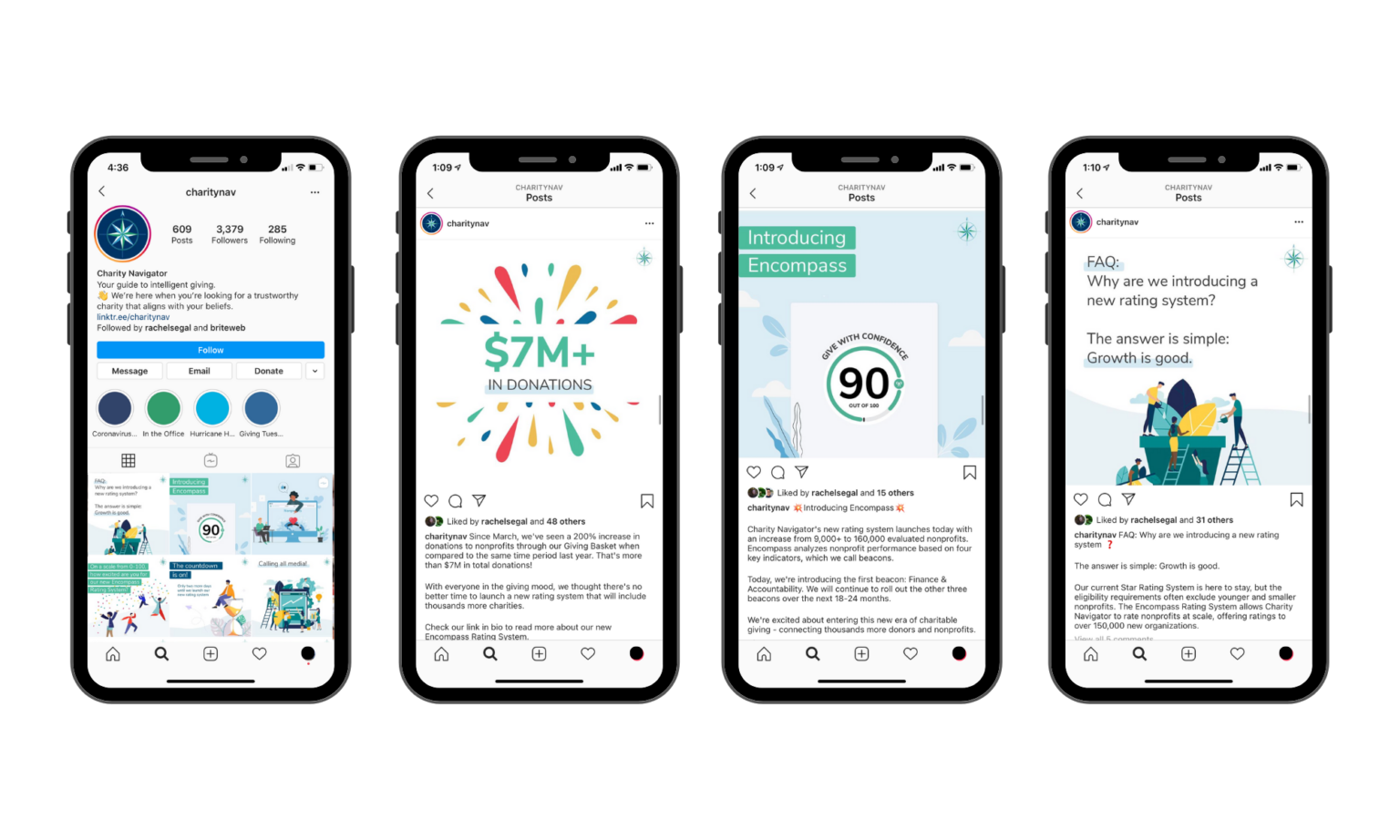 To complement press releases and news coverage, we developed a social media strategy specific to this news release that complemented all of their social media activities already underway. Through Charity Navigator's Instagram, Twitter, Facebook, and LinkedIn accounts, we were able to spread the word directly to their desired audience in short, digestible bites accompanied by custom graphics. Our social media strategy and comprehensive rating toolkit also invited nonprofits that received ratings to share their good news and participate in the online conversation.
Staying connected while we're far apart
Keeping in touch online has been especially important during the COVID-19 pandemic. There are very few events, meetings, or in-person volunteer opportunities to unite the community and work toward your organization's goal. Being physically distanced could make donors, supporters, and volunteers feel disconnected at a time where they're needed the most. Social media has the power to unite voices across the world.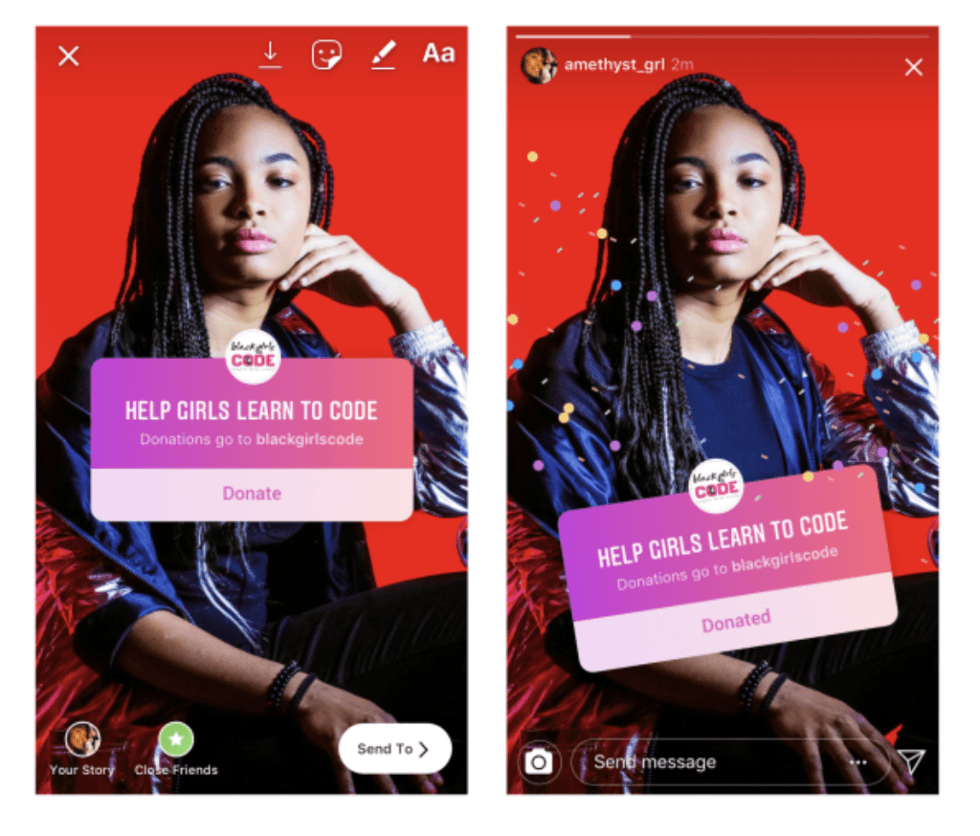 As an international company, we rely on the power of social media every day to connect our widespread team. Social media platforms not only have the power to make us feel more connected to a cause, but they can also help with fundraising efforts. 
For example, Instagram introduced a "Donate" button last year that lets nonprofits include a sticker on Stories to make donations easier than ever no matter where you are in the world. Facebook also has a wide range of charitable giving features, including a donate button, live donations, page fundraisers, and more that overcome the physical barrier many traditional fundraisers usually face. Social media nonprofit fundraising tools make it so that you don't have to be in the same room, country, or even time zone to donate which makes it that much more straightforward to stay connected to a cause.
Spreading your message and mission
The reason you should be using social media in your nonprofit, foundation or social venture's strategy is at least partially the same reason you might rent a billboard in the city center or plaster flyers around the downtown core: awareness. 
Whether it's a picture of a recent event, introduction to a team member, or a powerful quote, your organization's social media is the best way to communicate your message directly to others both one on one and en masse. 
Your nonprofit's social media can be whatever you want it to be. You choose the format, frequency, and tone of the content you share which opens up doors to near-endless possibilities…but also underscores why an overarching strategy is so key to success. 
With that said, here are some industry best practices to get you started:
Decide on a frequency that works for your organization and stick with it. Consistency is key.

Create or source eye-catching imagery and videos for platforms that are highly visual.

Be active. If you want others to engage with your content, you have to get out there and engage with other accounts. You can tag other organizations, comment on photos, and share great stories to be part of the conversation.

Stick to your roots. Social media should be an extension of your organization's voice and mission. 

Remember who you're trying to communicate with. Your brand's tone of voice should reflect your target audience and the social media platform you're using. An example might be a more professional tone on LinkedIn and a more casual tone on Instagram.
Don't forget about CTAs. Nice pictures and well-crafted captions are great, but don't forget about the cause behind it all. Give followers a call-to-action to make sure you're moving toward your goal with every post.
Be part of the conversation
Social media isn't just about what you put out, it's also about what you take in. Successful social media accounts participate in relevant trending topics. Platforms like Twitter serve as excellent grounds for a conversation about absolutely anything. It's important to not only throw your own opinion into the mix but to see what others are saying, gauge the public's opinion, and listen to the feedback.
Today, conversations move at lightning speed. Mere seconds after any major event you'll find millions of comments praising or condemning what just occurred. By the time you craft a thoughtfully-worded article to post on your blog, the conversation will have passed. While it's important to be deliberate with your organization's communications, it's also important to balance this with timely and relevant participation in social media.
Social media is about interacting with followers. It's a two-way street.
Appointing a social media manager will ensure there's always someone responsible for responding to current events and, furthermore, will ensure you don't risk multiple team members trying to jump in at the same time. Having a designated manager will also help cover your bases as an organization.
Social media is about interacting with followers. It's a two-way street. By engaging with your followers through comments, likes, and direct messages, you build a community that feels connected to your cause and are likely to share your message with their own online community. In fact, Classy found that 84% of social media users share to show their support for a cause and highlight issues that are important to them. That's a huge number of possible allies who are just waiting to amplify a message they believe in. If nobody takes responsibility for the social media account, you could be accidentally ignoring dozens of messages from people who want to know more about you and your organization or be part of your community.
New ad formats
It's no secret that social media marketing has taken off over the past few years. Big companies around the world are putting their money into Facebook and Instagram ads rather than TV slots. Why? Hyper-targeting. There are millions of people trying to navigate the overcrowded web and millions of organizations trying to stand out above everything else. In order to break through the noise, you have to opt for ads that target the demographic that actually cares about what you're saying and are likely to engage.
When it comes to nonprofits, we know budgets can be an obstacle. With social media advertising, you have the ability to maximize every dollar and only focus on the methods that work for your organization. For example, Facebook and Instagram allow you to choose your maximum budget per day or for the duration of the social media campaign. You can choose how often you're charged, how much money you want to spend, and how when you want to spend it. The sophisticated softwares will take your information into account and spread out your dollars to run the most cost-effective ad campaign possible. With little to no risk, many smaller companies opt for a trial and error method. By taking smaller bets and constantly evaluating the status of your campaign, you can hone in on what's leading to conversions and what's simply not working.