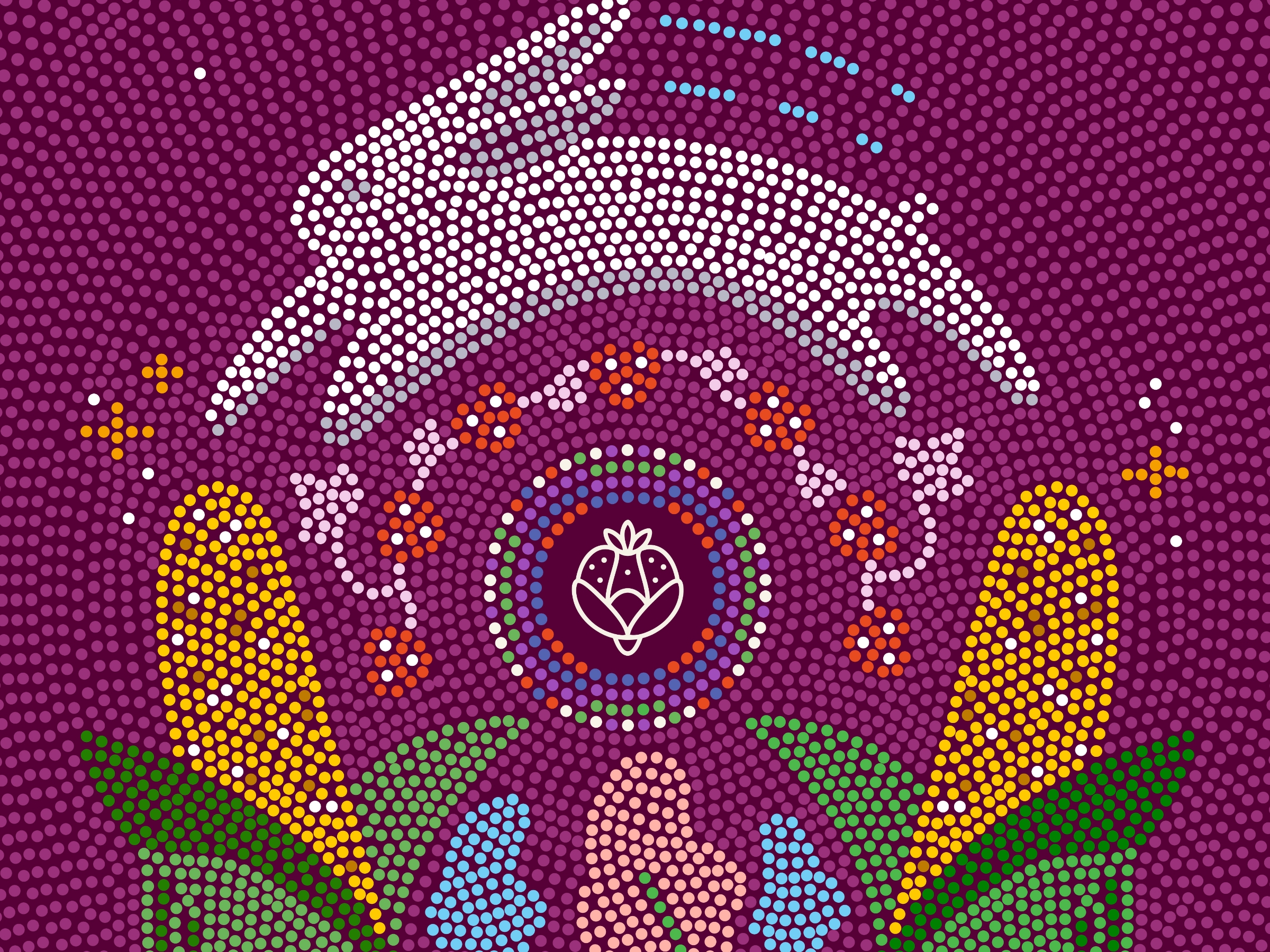 Nourish Leadership
An action learning series to promote Indigenous foodways and reconciliation.
Services
Brand Strategy and Messaging
Branding
Campaigns
Collateral Design
Communications Strategy
Graphic Design
Launch Campaigns
Video and Animation
The Challenge
Nourish Leadership is a non-profit organization dedicated to reconnecting people and planetary health through food, making health care systems more equitable and sustainable. We worked with Nourish to launch an action learning series designed to introduce health care professional leaders to different ways of understanding the relationships between Indigenous foodways, reconciliation, healing and health care.
It's called "Food is Our Medicine", recognizing the importance of food to well-being and also its relationships to culture, knowledge, healing and more. We were invited to design the online learning journey which consists of learning modules, readings, videos, resources, and reflection prompts. We also created a supporting campaign to raise awareness and encourage individuals to sign up to complete the learning journey.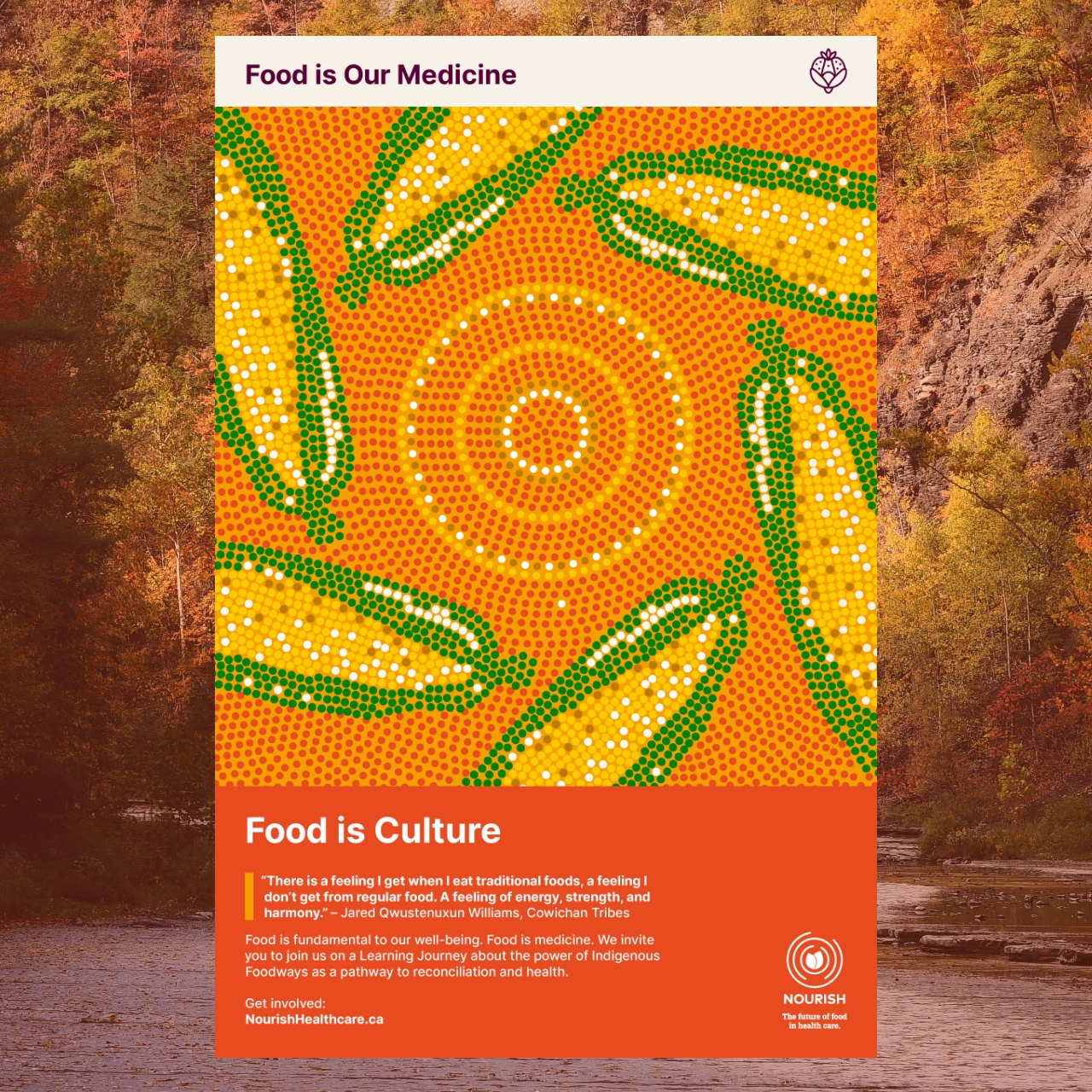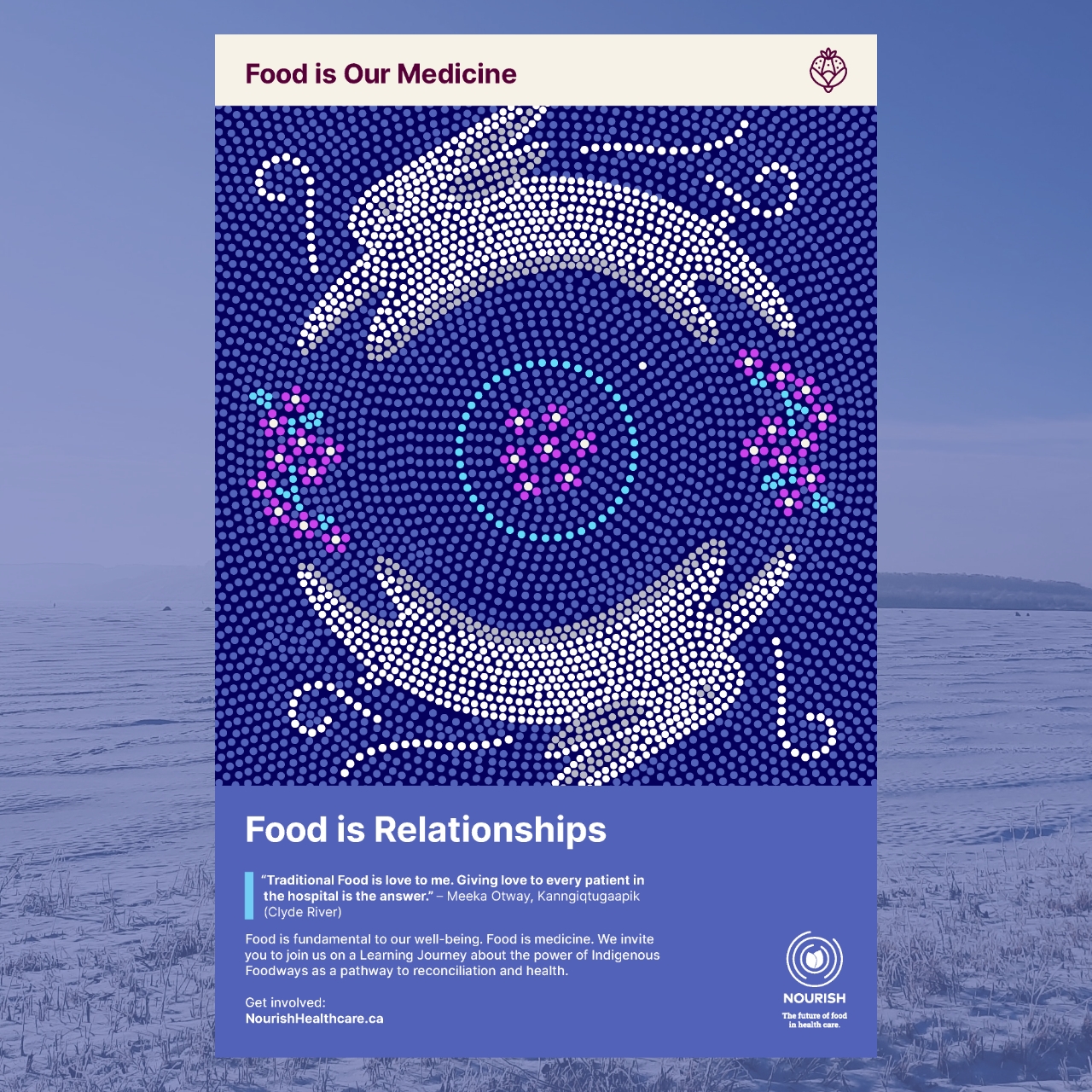 The Insight
This project was all about relationships—to food, to the land, and to each other. We centered our creative process around guidance from Indigenous advisors and deep collaboration with Indigenous designers/artists.
Even before we decided to work together, we had proactive conversations with the Nourish team about power dynamics and the roles of Indigenous and non-Indigenous designers on the project. As a creative team composed mostly of non-Indigenous settlers, we knew it was critical for representation to have the perspective of an Indigenous designer on the campaign, so we engaged Mariah Meawasige (Anishinaabe kwe) in what would become a fruitful collaboration.
We facilitated kickoff workshops to inform our approach to the campaign strategy, messaging, design, and digital UX. Rooted in those insights, we developed a range of design concepts with Mariah, welcomed input from the Nourish team, and then refined the chosen direction.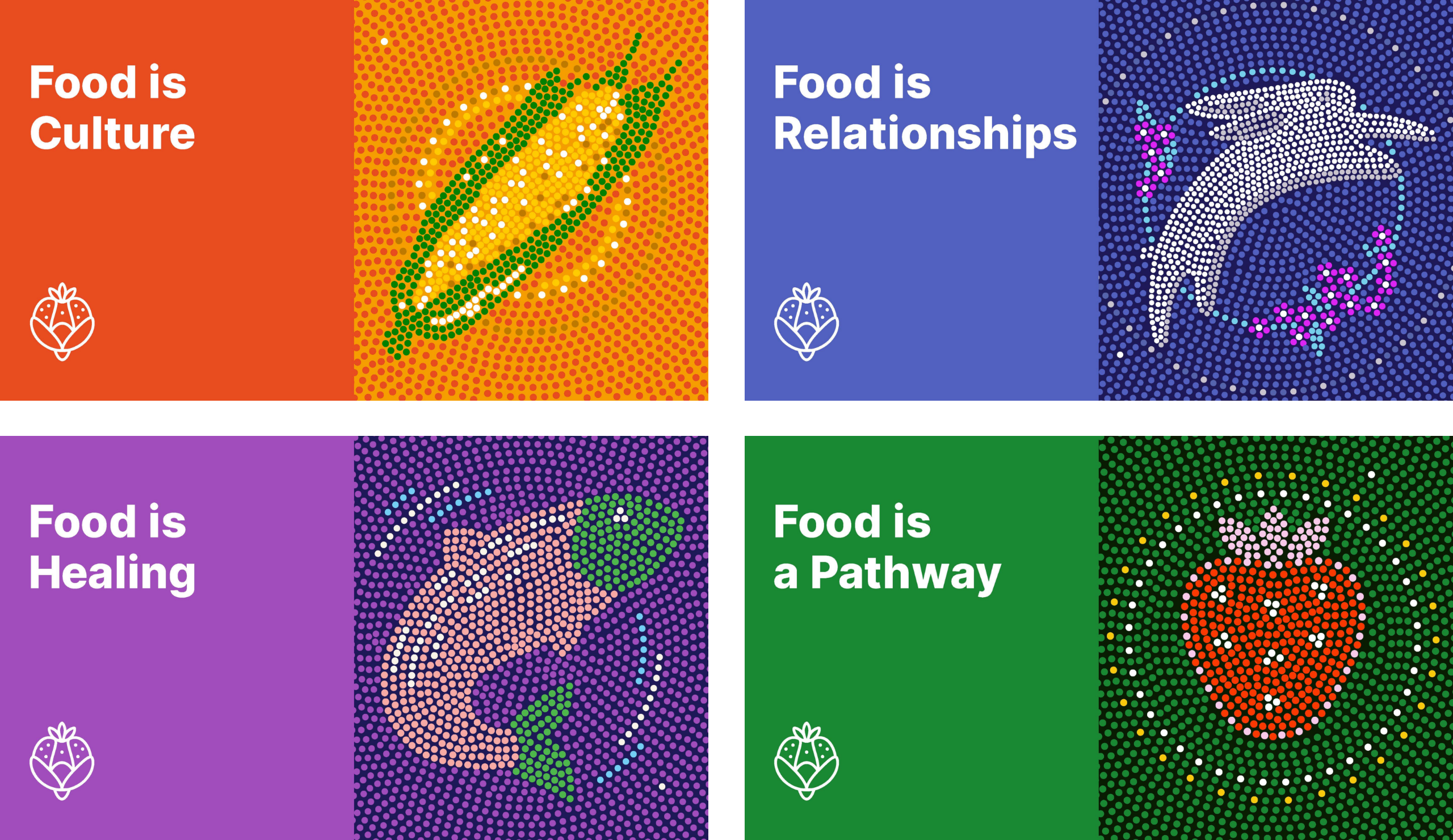 The Solution
The resulting visual motif is a digital interpretation of traditional beadwork which is prominent in many Indigenous cultures across this land known as Turtle Island. The circular patterns reference the Nourish logo and suggest the ripple effects of making change within large systems.
Each person who completes the online course receives a handmade pin with traditional beadwork and our campaign symbol in the middle. As part of our process with Indigenous beadwork artist, Brittnay Gauthier, to design these pins, we received the teaching of the Spirit Bead: on each pin, one bead is positioned seemingly out of place. It looks like a mistake, but is done intentionally as a sign of humility. We echoed this by placing Spirit Beads digitally in our graphics as well—look closely!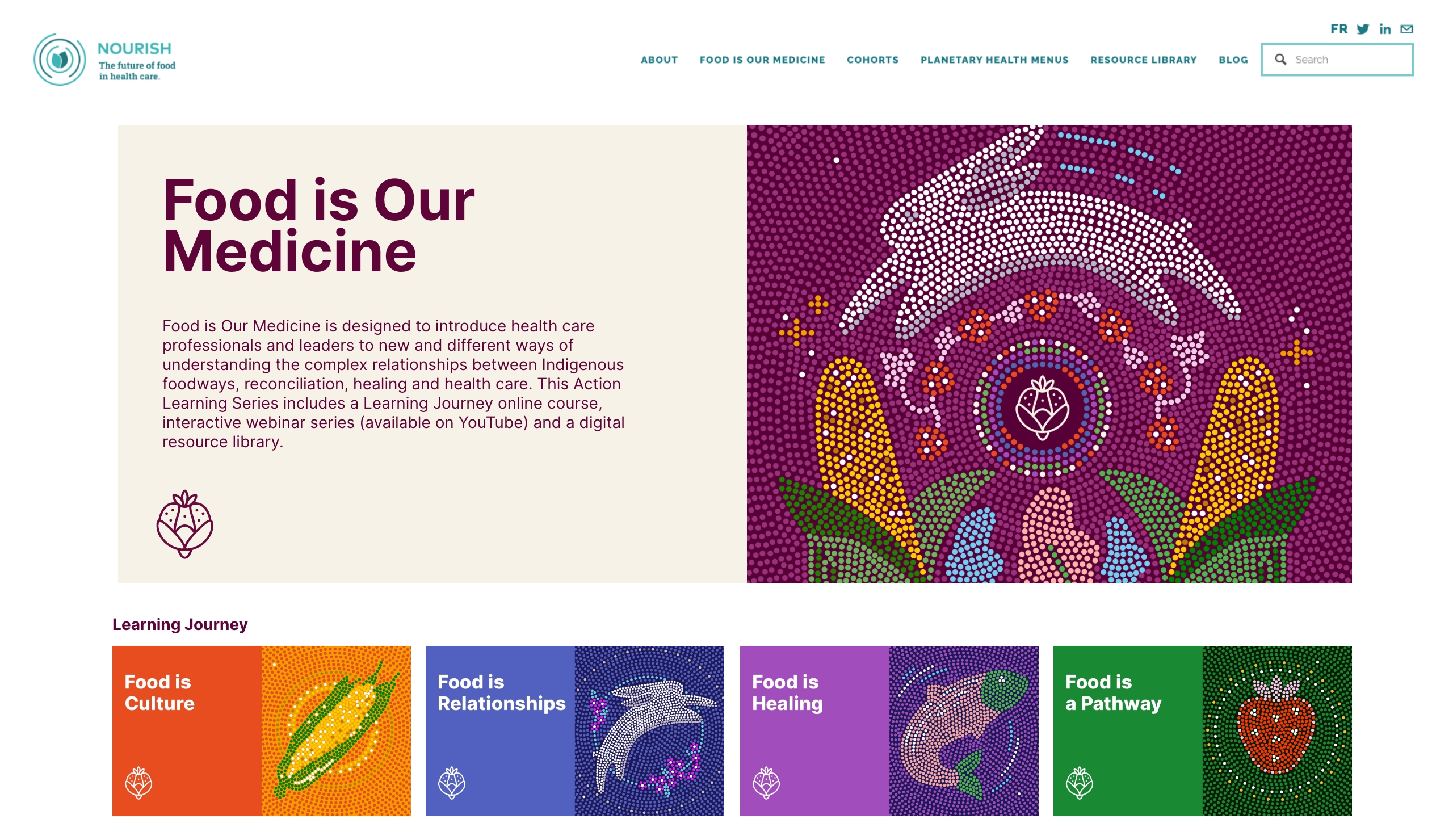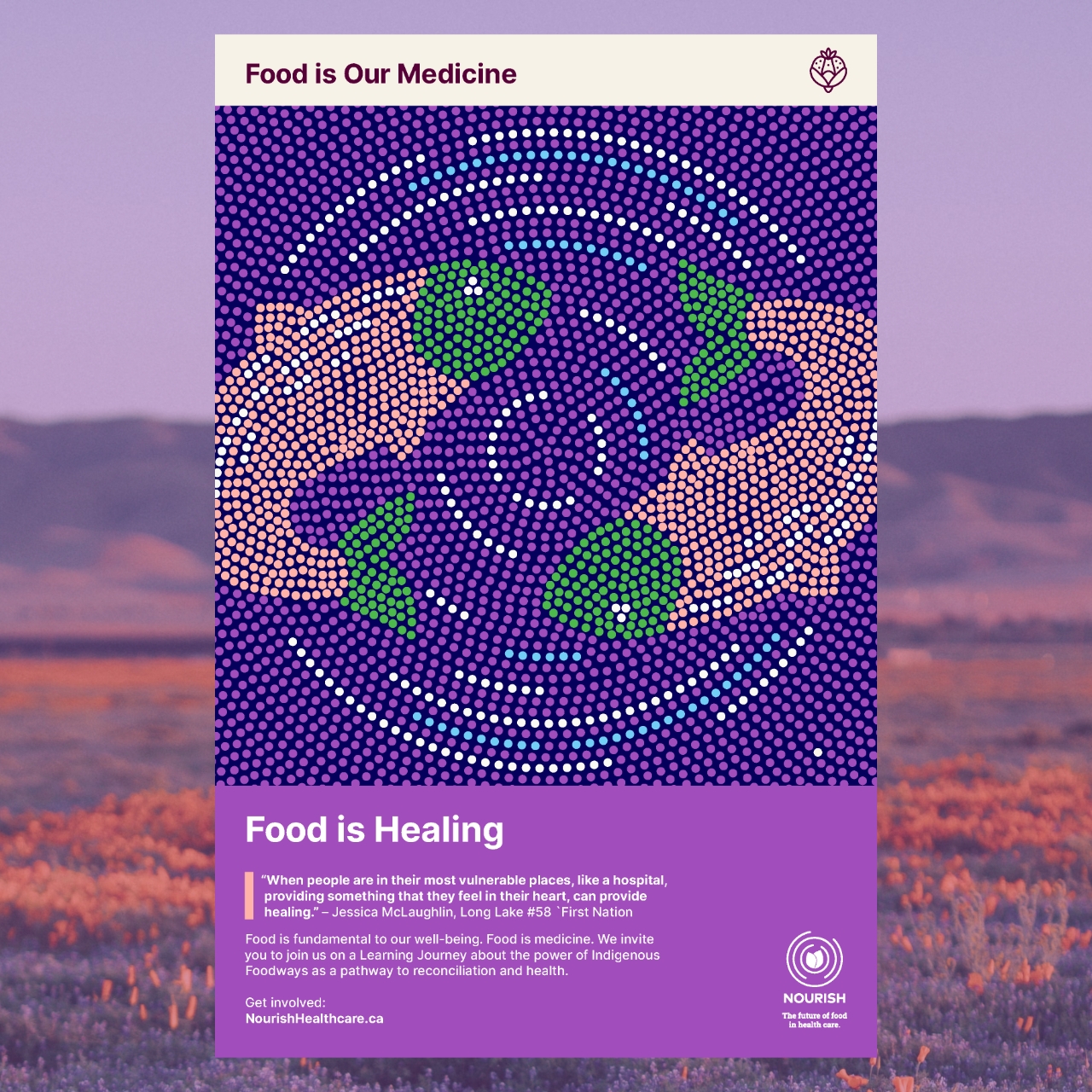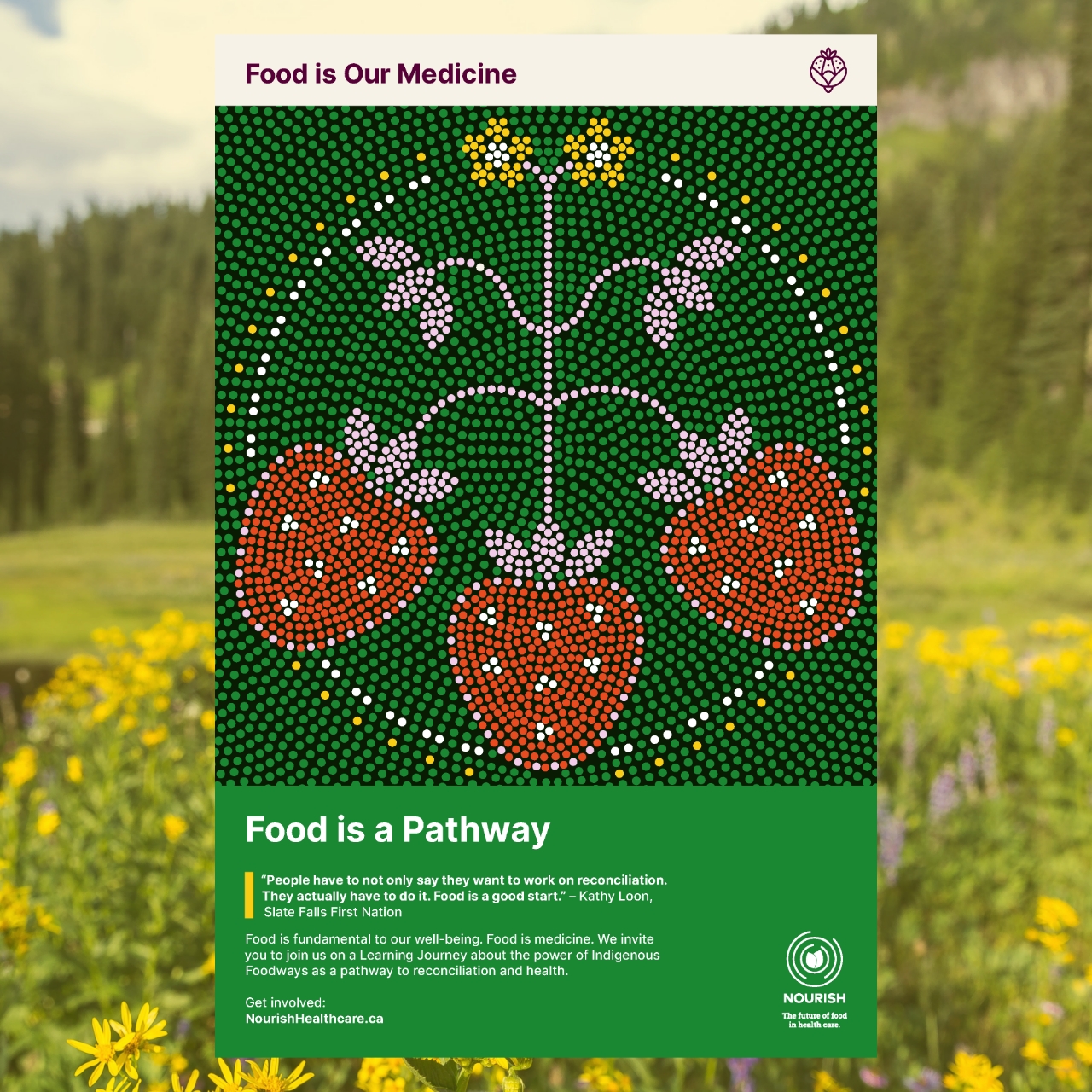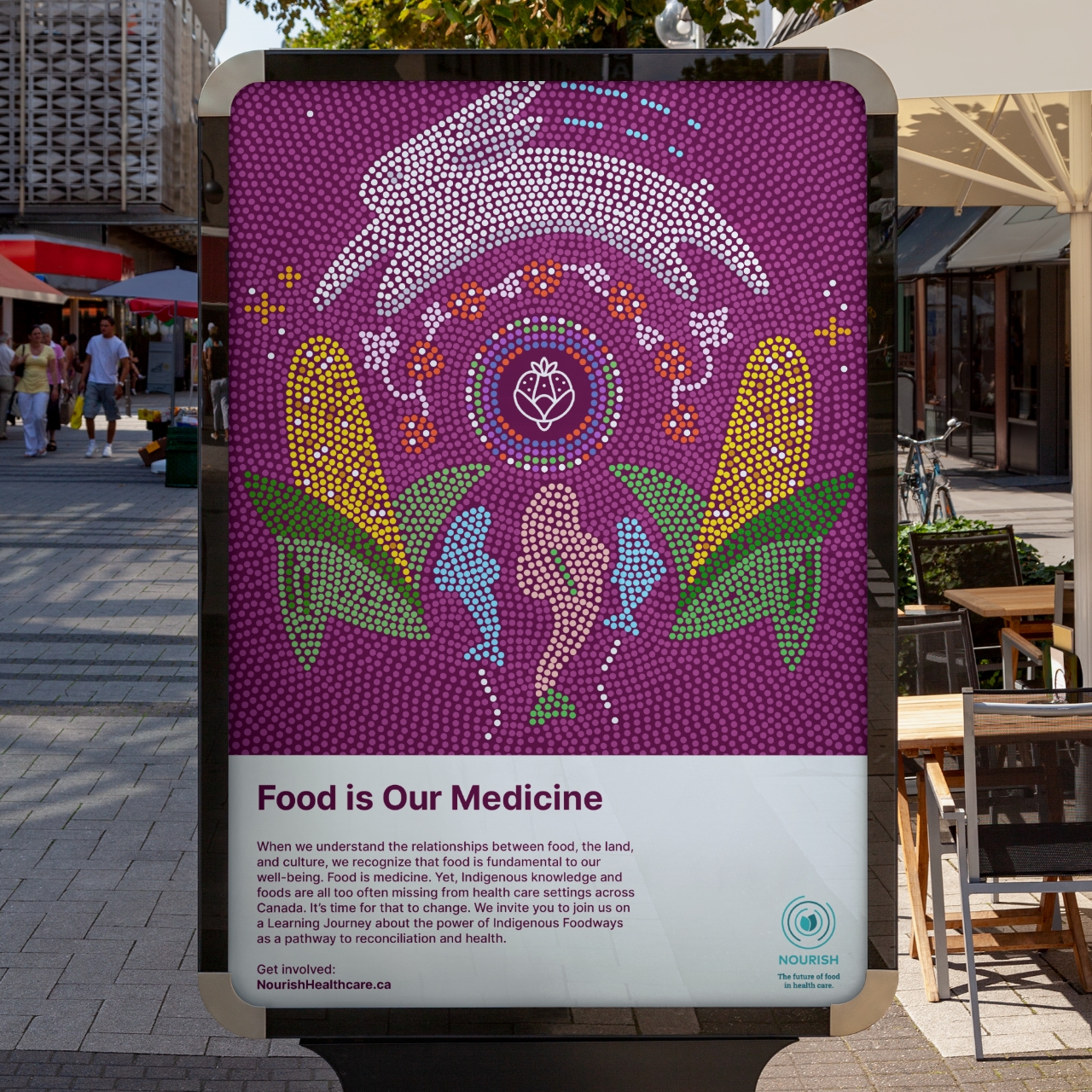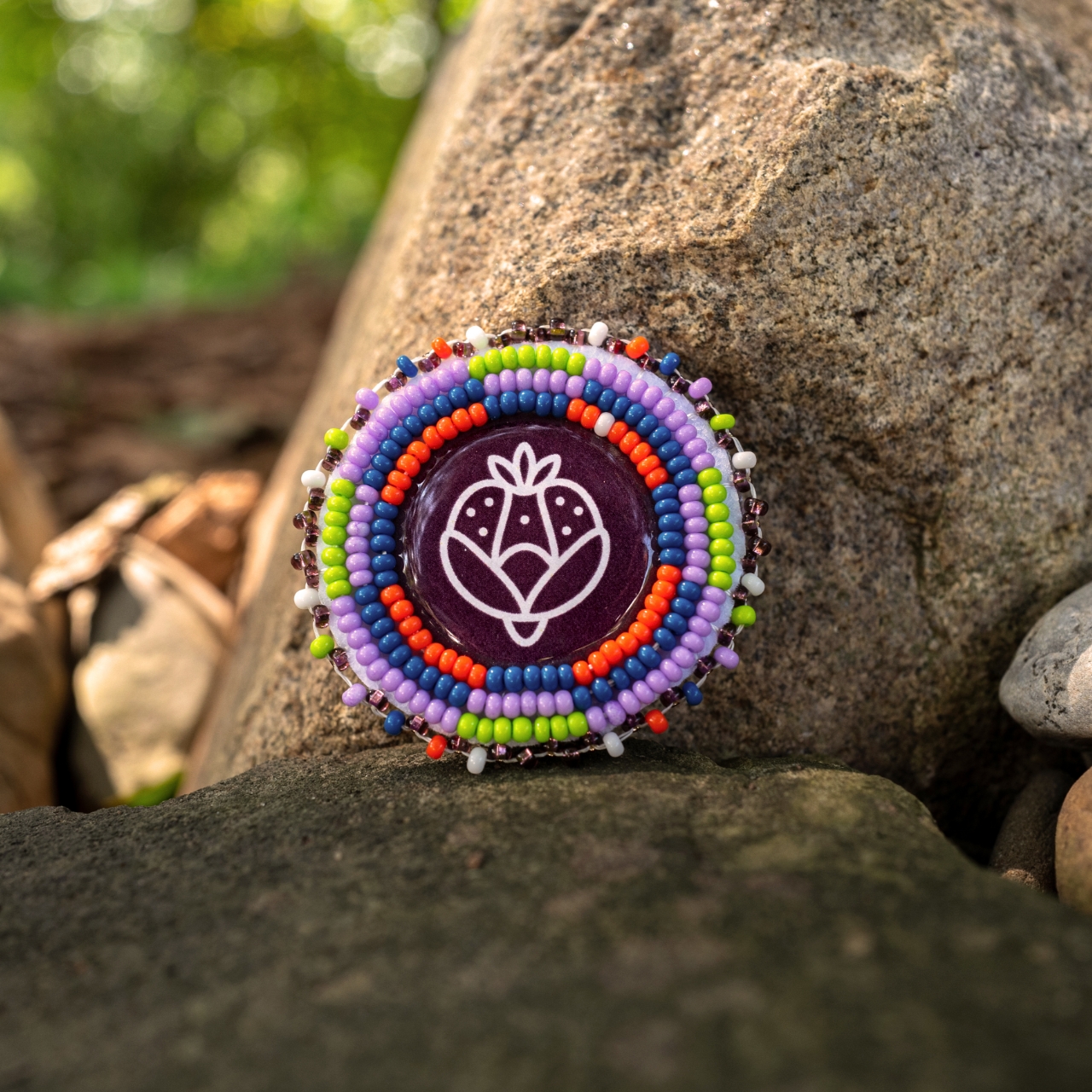 The Launch
We rolled out the campaign through social media, posters distributed to health care institutions and healing centers, and supporting video presentations. We also launched the online learning journey by building new functionalities and content into Nourish's existing website.
The Nourish team is thrilled with what we created together, and it's making a splash too. Across Canada, 1000+ individuals from 400+ organizations have signed up for the course, committing to learn about Indigenous foodways and to take action in health care, for example by serving culturally-appropriate foods to Indigenous patients.
As an additional outcome of this project, the process itself was a transformative experience for our own team. We approached the challenge with humility and had the privilege of collaborating with two emerging Indigenous designers/artists. In fact, we worked with Mariah Meawasige again on another project afterwards, to design Briteweb's own Reconciliation Action Plan document.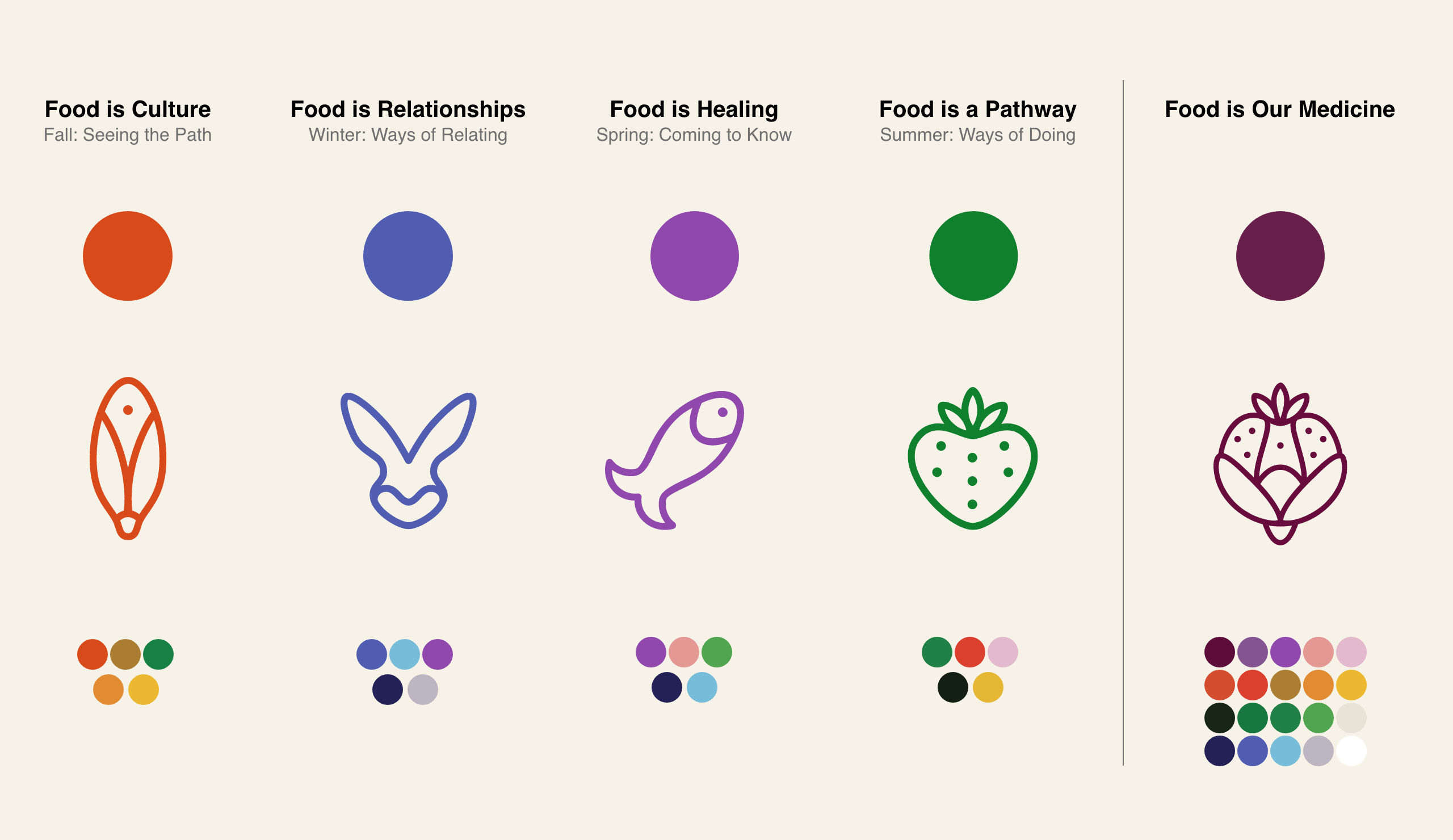 Participating Organizations
Partners
Design Collaborator: Mariah Meawasige
Pin Beadwork Artist: Brittnay Gauthier