So you're nearing the launch date for your organization's new brand or website. You know that you need to share this exciting update with your community, but you're not quite sure where to start. Here, we'll dive into 6 key strategies for a successful website or brand launch.
We're glad you're here. Something we see far too often is an organization working for months to build their new brand or website, only to quietly transition into this entirely new identity with no announcements, or even a celebration for this big step they've achieved.
We want you to use this new brand or website to generate momentum. You see, a successful launch campaign doesn't actually just happen on one single day. It's a multi-week series of strategic planning that mobilizes support for your organization as you enter into an exciting new chapter.
If you're stuck on where to start your launch planning, this blog will spark some ideas to help kickstart your strategy.
Generate pre-launch hype
If you want to make a big splash with your website or brand announcement, you're going to need some pre-launch hype. Building anticipation for your upcoming reveal is an essential piece of a launch plan, and the best way to do this is through a teaser campaign.
What's a teaser campaign? About 4-6 weeks before your launch, plan to slowly share tidbits of your newly minted website or branding. I mean, who can resist a sneak peek? It instantly incites the feeling of wanting to know more. These mysterious announcements infuse a sense of intrigue and prepares your audience to go all-in with their support when you launch your brand.
Ideas for your teaser campaign:
Create a series of glimpses of the brand or website, teasing your new design
Add a launch countdown timer to the existing website (Hello Bar is a simple plugin)
Write a blog post (like the one we did for our website launch) to provide context to the updates ahead for the brand
Share a preview of the colour pallet (but remember, keep it mysterious!)
Post a behind-the-scenes video of some sketches from the early stages of the project
Show off a peek of new marketing collateral, or better yet––mail some new swag to your top donors for an exclusive look
Bottom line: don't underestimate the power of curiosity. By inviting your audience into the behind-the-scenes of your development process, you'll generate a sense of excitement for a successful launch.
Build a brand toolkit for your team
Whether you're launching a new brand, a rebrand, or an updated website, you're going to need to prep your team with Brand Guidelines. Share your Brand Guidelines across all departments, educating everyone on how to emulate your branding. This will ensure that your entire organization is on the same page as you enter this new chapter.
Take a look at our clients, Trees For The Future for example. These comprehensive Brand Guidelines serve as a visual handbook for their team. Making this resource available to your whole organization creates a path for branding to always remain consistent.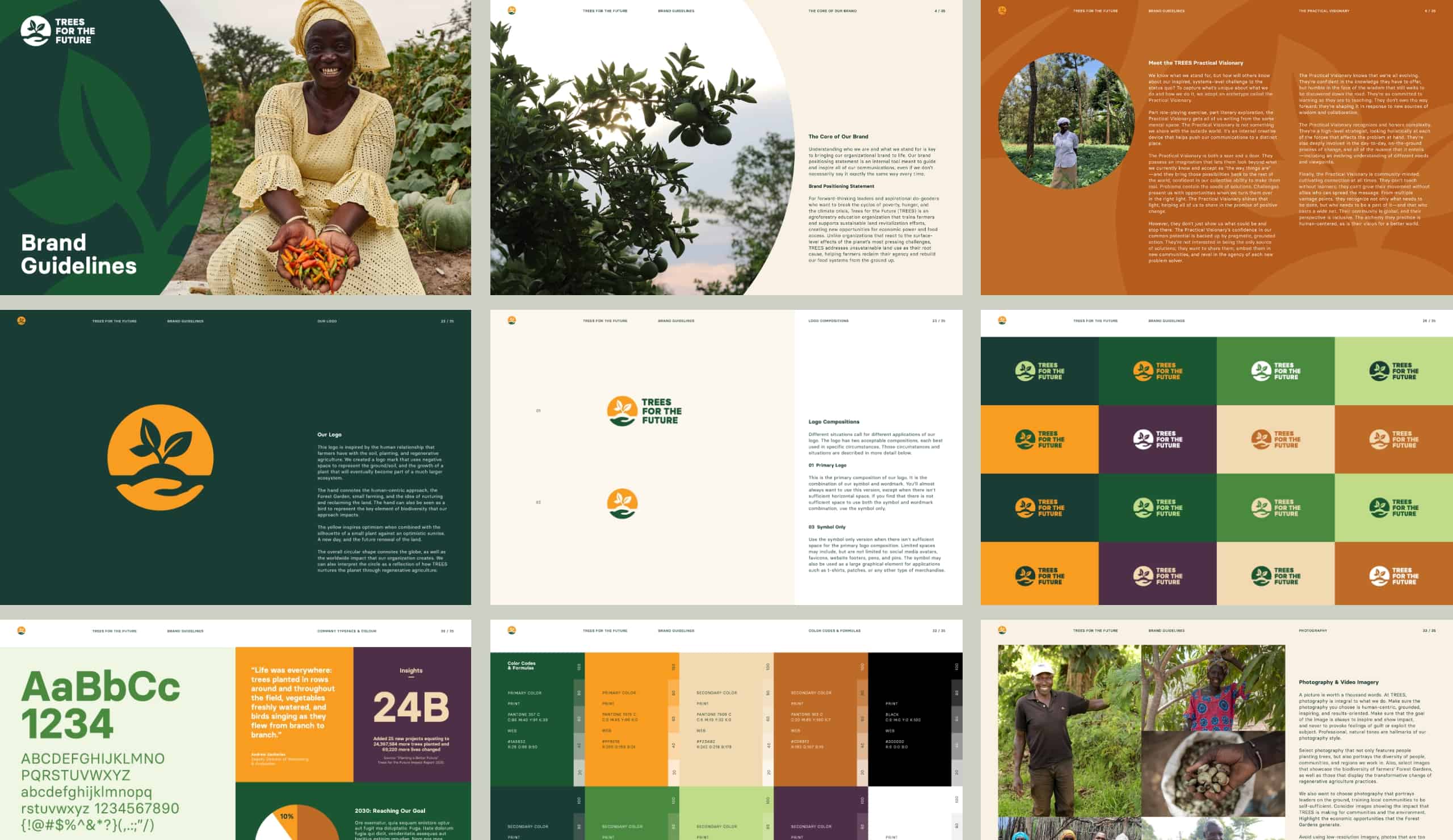 Get your team onboarded with your branding before the launch:
Create a shareable folder to download logos, letterheads, fonts, graphics, photography, colour codes, and key messaging
Provide an email signature template with your updated branding
Include a list of talking points for the most commonly asked questions regarding your new brand or website
So go ahead and snag a spot at your organization's next All Hands meeting. Presenting the new brand will help the whole organization feel prepared and excited for the upcoming launch.
Leverage social media for excitement and connection
Prepare a series of social media posts for your launch campaign. This is the day to show off your new look! You can finally reveal the full picture of what you were previously teasing.
Did you show off some design elements in the pre-launch phase? Share how those designs look on your website. Did you tease just a tiny corner of your new logo? Make a fun video showing the complete picture in all its glory.
Our clients at CLEAR Foundation revealed their new brand name on their Instagram with a name tag. In their caption, they lead with transparency and close with a clear call-to-action.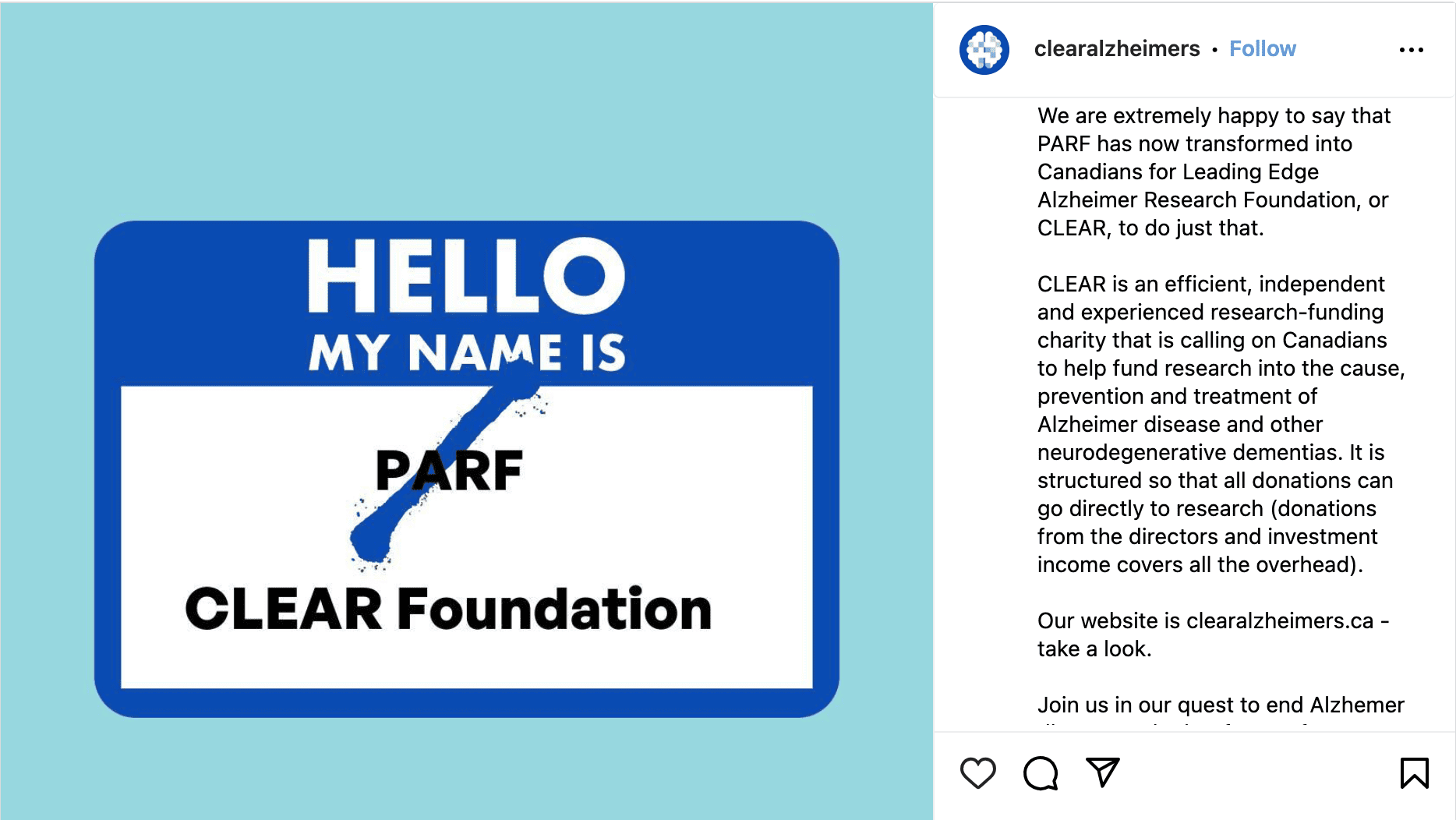 3 rules-of-thumb for a brand launch on social media:
Update your biographies, profile images, and avatars across all social platforms.
Remember: Your brand launch is not the day to stay quiet––encourage your team and community to share your social posts. Don't be shy about asking your supporters for a message of congratulations that you can share on your feed. The more hype on launch day, the better.
Get active in the comments and DMs. If people are commenting on your posts, talk to them! Respond publicly. A Like is nice, but writing a reply will not only make your followers feel connected, but it will also boost engagement on your post.
Be authentic in your content. Explain why the change, and why now. As a social-change organization, folks are invested in where you spend the organization's dollars. Show them how your new brand or website can help further the organization's mission.
Go even deeper in your email marketing
Get ready to blast your exciting launch across all communication channels––this includes your email list, of course. Where social media is a great space to show off your creative visuals, email provides an avenue to tell your story in a deeper, more meaningful way.
To use Trees For The Future's rebrand as another example, take a look at their brand launch email. They convey a bold impact, showing off their updated design and sharing a linked blog post of their big plans for the future.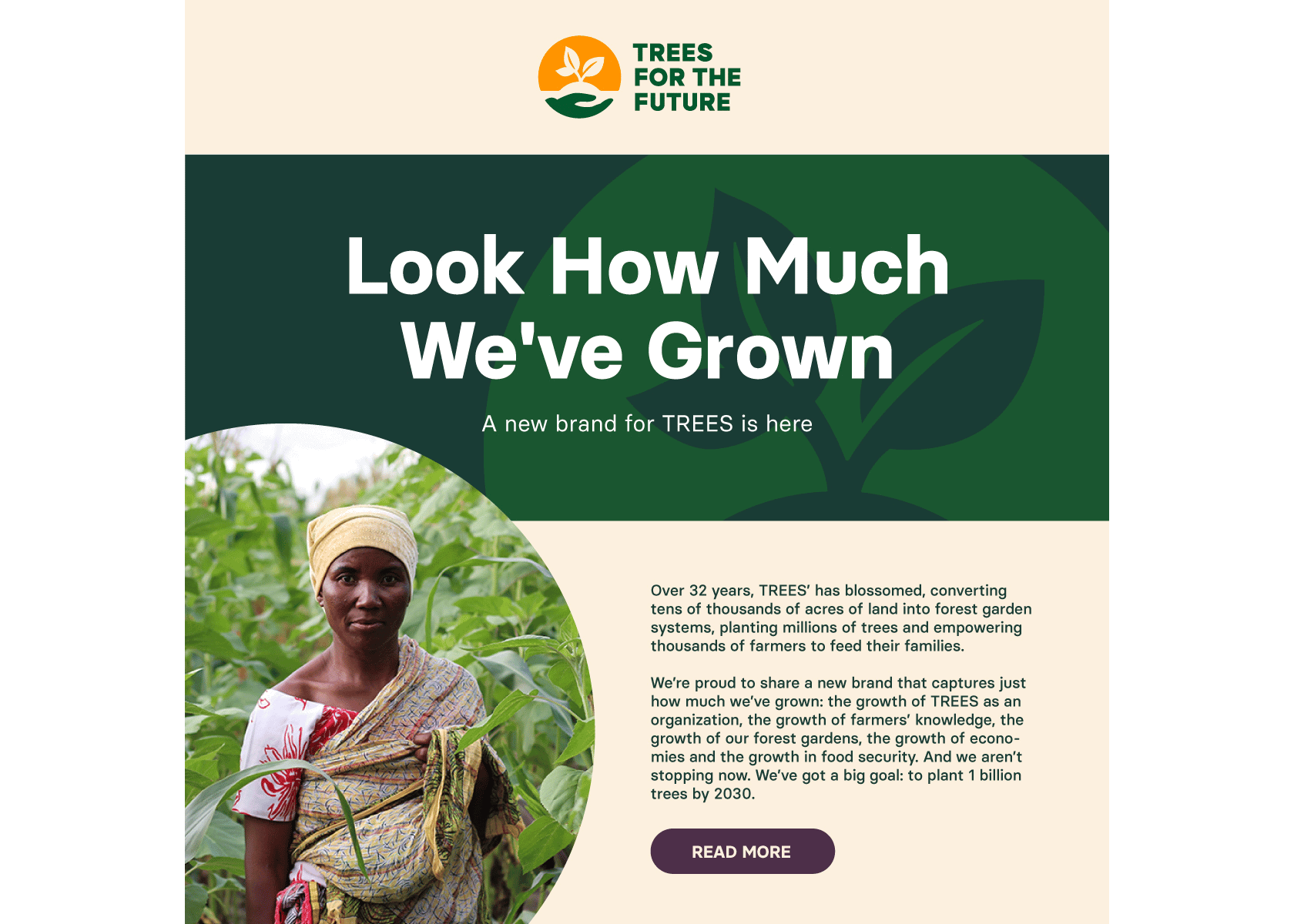 Ideas for your website launch email marketing content:
Tell the reasoning behind your choice to rebrand or build a new website––How will your rebrand drive your mission forward? Try a skimmable format, like "3 reasons why our new look will start a new chapter for our mission"
Share the benefits of this update––Is your new easy-to-navigate website going to make your resources more accessible? Tell your audience how this will benefit them!
Peel back the curtain––Ask a team member to write their first-hand experience of developing this project
Show off the areas of your website or brand that highlight your mission and the community you serve––Showcase your new photography, explain the meaning behind any symbolic imagery, or give a tour of your resources page
Don't forget your call-to-action––provide a link to send them to your website, launch videos, or ask them to share your launch with a friend
Use your stories to inspire action. Leverage your messaging to show your audience that you have a fresh new face forward and you're invigorated to make change, with their support.
Prepare a media press kit for public awareness
Here are 3 examples of brand launch media content:
Our client Arts Midwest shared a blog post on their new strategic direction––highlighting their vibrant colour pallet, design shapes, and brand values.

Contact your local media outlets for a press release interview. This leverages the opportunity to link your new brand or website on a public platform. Our client CLEAR, formerly PARF, distributed a press release and earned coverage on a provincial news network.

A brand video is an extremely effective tool to educate an audience. The visual demonstration of the new look and site can catapult the impact of your key messaging. This video we made for Trees for the Future doubles as press material and evergreen content for their website.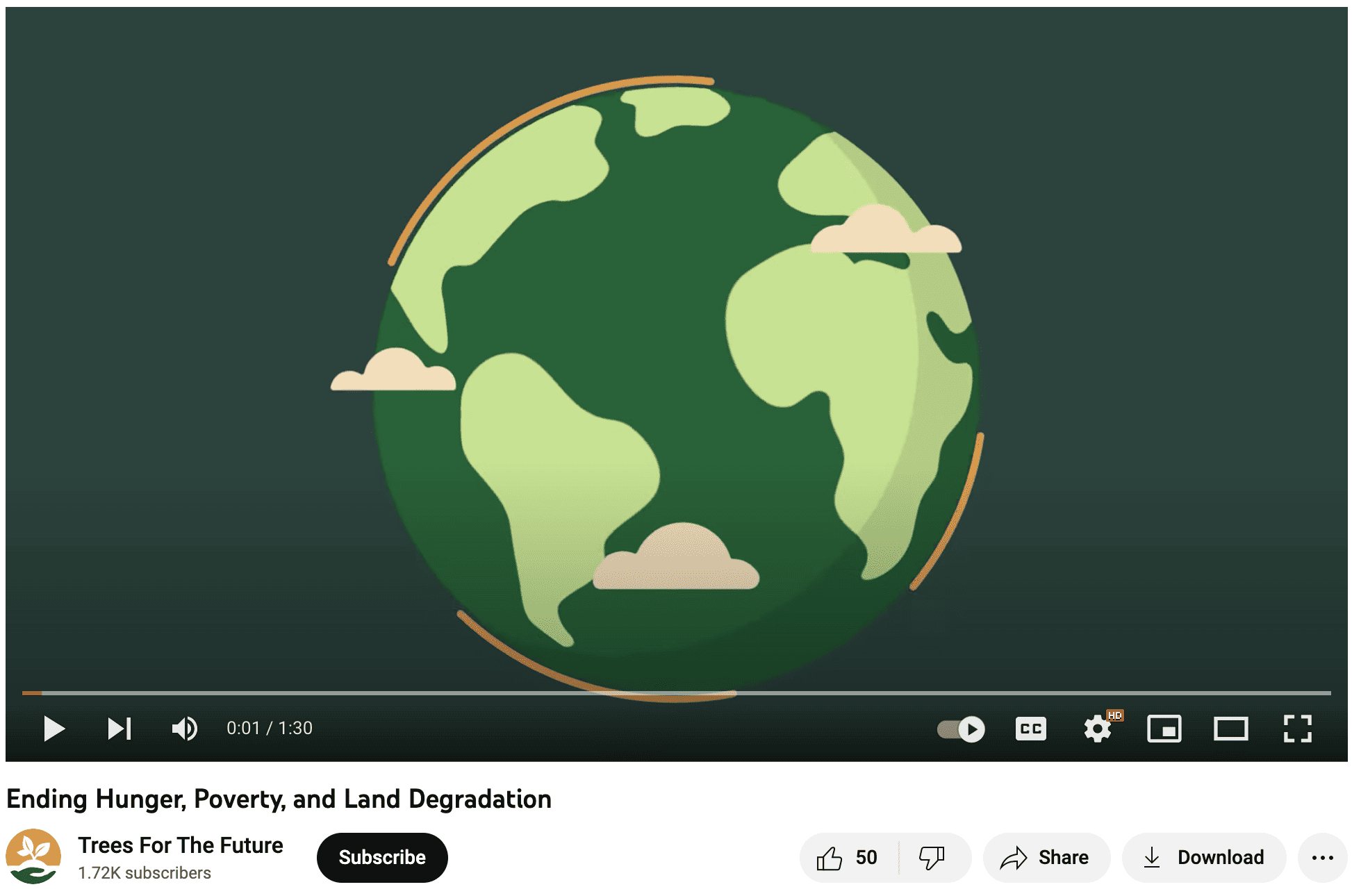 Grow your brand awareness with strategic partnerships
Don't miss the opportunity to use your launch as a way to expand your audience. The best way to do this is by partnering with organizations, brands, or individuals who share a similar audience.
Ask them to share the exciting news of your launch or collaborate on content. This is a mutually beneficial moment! You get the exposure, while your partners get the chance to be involved in a mission they want to support.
Here are some ways you can create partnership opportunities for your launch:
Partner up on a digital front––Collaborate on a social media announcement, do an interview for their podcast, or cross-promote in a newsletter. Get creative on how you can team up on sharing your cause.
Engage with industry-related forums and online communities. Hop into social-change communities to celebrate––think NTEN, Communications Network, B Corp's B Hive, issue-related forums, and anywhere your industry likes to hang out online.
Plan a launch event to generate buzz. Whether it's an internal celebration with a cake in your office, or a public celebration with all of your supporters, invite brands to partner with you on a brand launch party.Bring your new brand or website into the real world with a swag partnership. Make your launch tangible with new apparel, mugs, notebooks, pens, or more unique organization-related items like a portable speaker our client Arts Midwest had made with their new logo.
Now, launch with a bang––then keep the momentum going!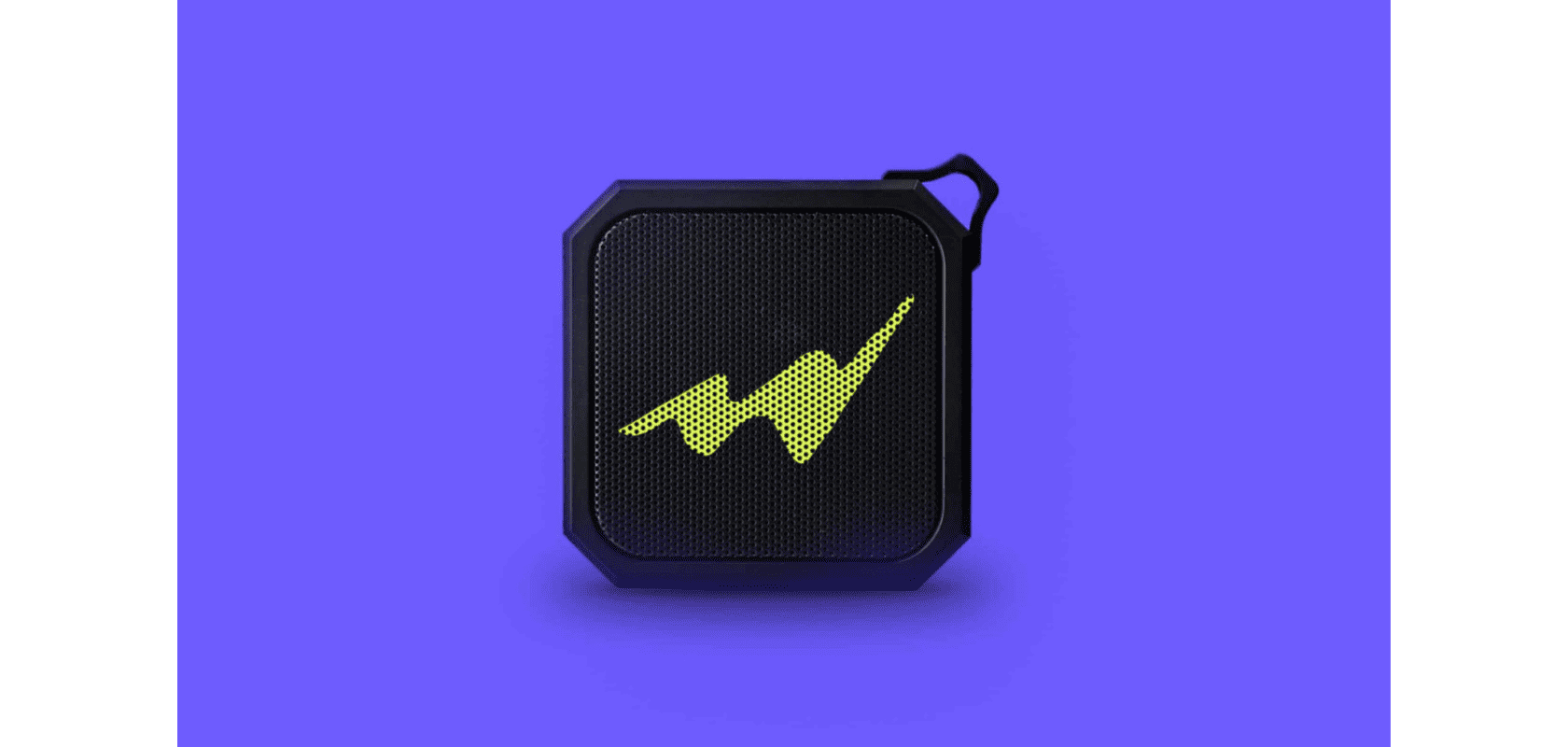 With a brand or website launch strategy planned and prepped, we're confident you will generate a surge of support in your community. But promise us this: you will NOT go silent after your launch. Deal? Use this launch campaign as an actual launch pad into a new chapter.
With the momentum created from your new brand or website, it's essential to put in the on-going work of taking your marketing to the next level. Share your mission loud and proud with the help of a consistent content calendar to keep your momentum going. Your organization is doing a lot of good and the world deserves to see it.
As always, we're here for you. Send us a note if you need any support with your launch strategy planning.